March in the UK can be beautiful.  With the snow gradually thawing the ground is soon going to warm up. General tidying can be done in the early part of the month, but don't disturb the ground at the moment as the soil structure will break down.
Seed potatoes can be bought from local nurseries or some supermarkets, and they need to be chitted.  Place each one in the depression of an egg box with the eyes facing upwards and put the egg box on a warm windowsill.  The light will encourage sprouts to appear from the eyes.  When the sprouts are a couple of centimeters long they can be planted outside.  I would suggest a mixture of earlies and second earlies which will give you new potatoes and mids which will give you normal potatoes for mashing, baking or roasting.  There is nothing like the taste of fresh potoatoes dug from the ground. The link below will give you further information on how to grow potatoes.
https://www.pinterest.com/pin/463378249154897373/
My favourite varieties are: Charlotte, Maris Peers, Maris Pipers and King Edwards.
Broad beans can also be planted in small pots  and when they have about 5 leaves on them these can be planted out as well, this enables the plant to be strong enough to cope with all weathers.  You can plant the seeds directly into the ground but the plants will not be as hardy.  The best time for planting is November, although seeds can be planted in January, the later plantings can suffer from blackfly, which can be kept at bay by using a natural spray.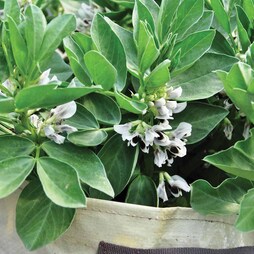 My favourite variety is Aqua Dulce.
The key element with broad beans is to water well, and cover the early plants with a netted cloche as pigeons and rabbits love the early shoots.  I tend to plant these in a 3 / 2 formation, this enables the plants to have some protection from the wind, if you live in a windy area, you may need to stake them and provide a netting or twine barrier to help them in their early growth.